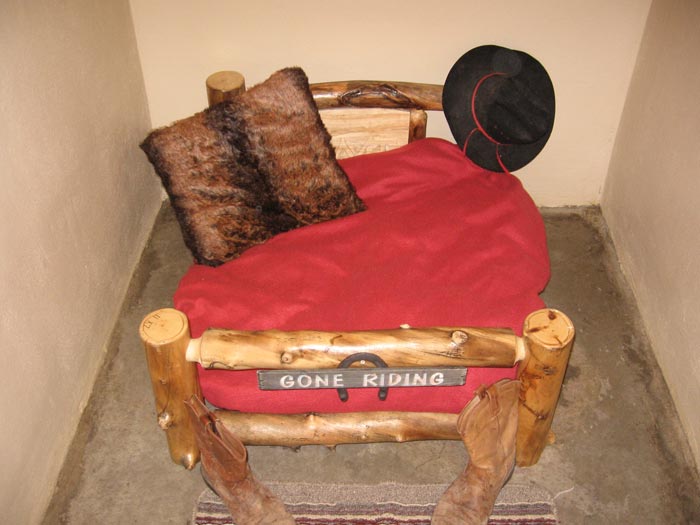 WAGGIN TAILS:
Just got off the phone with Natasha at
Waggin Tails Pet Ranch
in Fulshear. We're going to leave Riley there while we go on a cruise. All we need to do is furnish them with her vaccine record (I should fax that over after Wednesday's Bordatella shot) and she's in. She has a reservation. We'll have to drop her off on the Saturday before we leave because they only do pickups on Sundays. And we'll pick her up when we return on the following Sunday.
We got her a "luxury suite," above, and it looks like she's got a TV and there's radio, I believe. Natasha said if a dog is frightened from thunder or something, they turn up soothing radio music and put on the Thundershirts. The luxury suites are $45/day. The regular accomodations -- "The Bunkhouse" -- are $35/day, so it's not that much more to go large. I'm sure there are other fees and we probably should buy a bath at the end of her stay (there are ponds out there and I wonder if she won't be in them every day).
A very cool thing about Waggin Tails is that you can go out for one day of doggie day camp for free to see how she likes it. I was under the impression she had to pass an evaluation to get in there, but that is not the case. They evaluate on site and each dog is rated green (friendly all the time), orange (needs to be watched) or red (doesn't play well with other dogs). They all get attention and exercise, just tailored to their own personalities. She said they have a lot of red dogs, which is kind of comforting, in that they are experienced with them, or else they'd shy away from difficult cases.
We pay when we pick her up. It won't be cheap, but she's worth it.
DR. CRUZ:
Appointment for Bordatella booster, heartworm exam Wednesday, Nov. 6 at 10 a.m.
ANIMAL TALES:
Grooming appointment Thursday, Nov. 7 at 7:30 a.m. for full bath and haircut. Not as short as last time. I want to pick her up and bring her home before I go to work. In case she's not ready, Vlad can pick her up as late as 8 p.m.